OLEX

SOFTWARE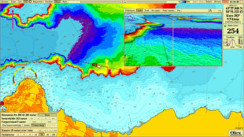 Olex is a unique navigation and mapping system developed by Olex AS in Trondheim. The system is used in fisheries, aquaculture, port work and piping, among others. Olex consists of the following three main elements::
Seabed survey and charting
Navigation tools
Plotter functions
Using data from the ship's echosounder and GPS, Olex calculates a realistic 3D seabed map, in real time.
More